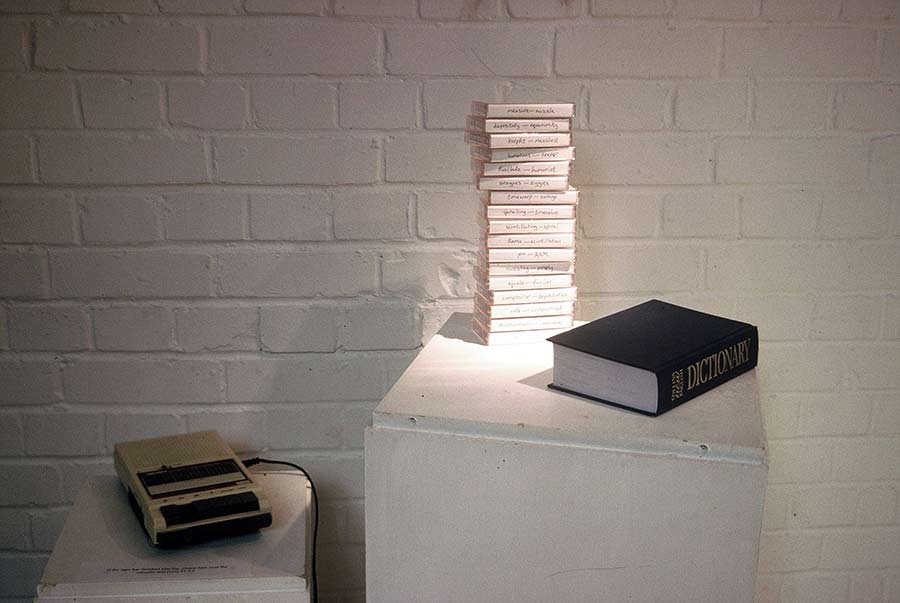 Dictionary
Date: 1997
Material: 17 tapes
Dominic Wilcox reads the Collins New English Dictionary onto 17 tapes.
"This started as a Dominic Wilcox impersonation device. A leather suitcase, with engraved brass plaque containing a copy of the clothes and shoes I wear, my handwriting and a set of tapes to learn how to speak with my accent in which I read out every word in the dictionary, starting with the phrase 'Listen and repeat…' I used a mini dictionary for that piece but later read a larger dictionary as a separate piece of work that was played in Edinburgh's Fruitmarket gallery during a group art show.
The process of reading the dictionary was quite difficult in that I had to be reading the next word while saying the previous in order to try to maintain a rhythm.
I liked how words are juxtaposed next to each other, connected only by the alphabetical order, occasionally creating interesting and surprising combinations." Dominic Wilcox
For the first time in 16 years you can hear a sample here.